Black Enterprise – Oct. 2011
on Oct 19 in
Milestones
,
Slider
by
admin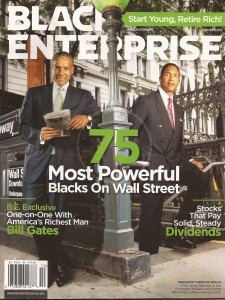 Pick up the October 2011 issue of Black Enterprise Magazine, flip to page 57, and you just might run across a few familiar faces. Birmingham entrepreneurial couple and creators of the Magic City Black Expo, Darrius and Meagan Peace, are featured front and center of B.E.'s most recent Wealth for Life article – "Committed to Black Business".
B.E.'s two-page spread highlights the origins and development of MCBE since its conceptualization three years ago, as well as the significant role it has played in the creation and growth of minority owned businesses throughout the Birmingham area.
In its mission to help African Americans obtain wealth, Black Enterprise has highlighted 10 Wealth for Life Principles that serve as step-by-step guides to responsible saving, investing and spending in hopes of providing a foundation of wealth for future generations. MBCE was chosen with the 8th  principle in mind — I Will Support the Creation and Growth of Minority-Owned Businesses
 Check out the full article below!
More MCBE Milestones